University of Texas acquires Garcia Marquez archive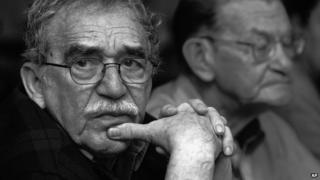 A US university has bought the personal archive of Colombian Nobel Prize-winning author Gabriel Garcia Marquez.
The archive, including manuscripts for 10 of his books, was bought by the University of Texas in Austin.
Colombian Culture Minister Mariana Garces said it was a loss for Colombia, but the author's family said the government had not approached them.
Garcia Marquez, who died in April at the age of 87, was born in Colombia but did much of his writing in Mexico.
The archive spans more than 50 years and includes letters between Garcia Marquez and writers such as Graham Greene, Gunter Grass and Carlos Fuentes.
There is also material related to Garcia Marquez's political work and his close friendship with Fidel Castro.
Among the manuscripts is the original One Hundred Years of Solitude, perhaps Garcia Marquez's most famous book.
The collection will be placed in the University of Texas's research library, the Harry Ransom Center.
University of Texas president Bill Powers said: "The University of Texas at Austin with expertise in both Latin America and the preservation and study of the writing process, is the natural home for this very important collection."