Brazil's capoeira gains UN cultural heritage status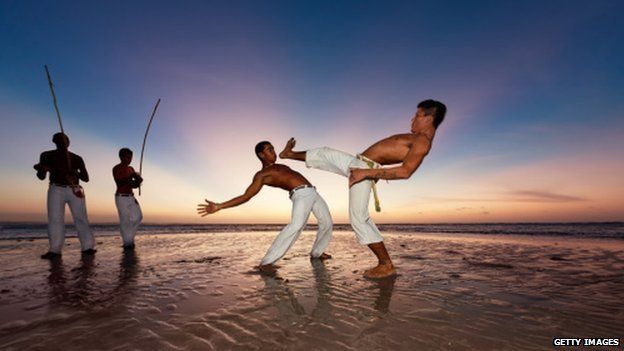 Capoeira - a Brazilian martial art form combining dance - has been given a special protected status by Unesco, the UN's cultural arm.
A Unesco representative said defining capoeira as "intangible cultural heritage" would help Brazil preserve the tradition.
Capoeira was originally created by African slaves to keep their fighting skills alive, disguising it a dance.
It is performed by two players who dance on their hands and feet.
A combination of martial art, dance and sport, capoeira is performed to percussion and chanting.
It requires great physical strength and flexibility and is regarded as being of immense acrobatic beauty.
"It is one of the most important symbols of Brazilian identity and is present throughout our national territory as well as being practiced in more than 160 countries," the Brazilian culture ministry said in a statement.
Brazil now has five cultural art forms which have been given Unesco cultural heritage status.
They include several dance and music forms, indigenous rituals and art.
Related Internet Links
The BBC is not responsible for the content of external sites.