Venezuela jail drug overdose kills 35 inmates in Uribana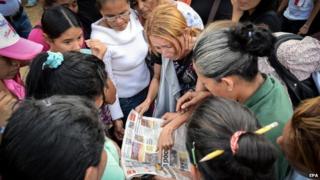 Thirty-five prisoners in north-west Venezuela have died after overdosing on the contents of a jail infirmary they stormed, a congressman says.
More than 100 others were being treated, 20 of whom were very ill, said lawmaker William Ojeda from the governing Socialist Party.
After breaking into the facility, the prisoners are reported to have consumed a variety of medicines.
They had been protesting about conditions in the jail.
Mr Ojeda said the inmates at Uribana prison near the north-western city of Barquisimeto had ingested a combination of anti-seizure drugs, insulin, antibiotics and hypertension treatments.
Relatives outside the jail have accused prison wardens of poisoning the inmates.
The chief prosecutor's office said it wanted to question the prison director over the deaths.
The incident was first reported on Thursday, when the authorities said that 13 inmates had died.
Venezuela has one of the highest crime and homicide rates in Latin America, and the judicial system is struggling to cope with the caseload.
The prison population has been increasing with many of those incarcerated waiting for trial.
Most prisons in Venezuela are run by armed inmates, with the security forces having little or no control, says pressure group Venezuelan Prison Observatory.