Colombian General Alzate resigns over Farc abduction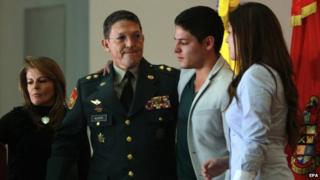 Colombian General Ruben Dario Alzate, released by Farc rebels on Sunday, has resigned from the armed forces.
Gen Alzate and two companions were abducted while travelling by boat in a remote jungle two weeks ago.
President Juan Manuel Santos had demanded an explanation from the armed forces about how the general came to be kidnapped.
Gen Alzate admitted that he had breached security measures.
Gen Alzate was taken by Farc rebels in a jungle area of Choco province, where the 34th division of the Farc is known to be active.
He was dressed in civilian clothes while travelling along the Atrato river by boat.
"Out of love and respect for our military institution, which has been affected by this incident, I've asked the national government to retire me from active service," he said in a media conference.
President Santos accepted the general's resignation, saying: "The general went out as a good military man, he went out with honour."
Gen Alzate regretted having ignored military protocol, but said he was moved by his wish to help the region's poor communities.
He said he had been working in a project to install power generators on the Atrato river.
He said that he decided to wear civilian clothes because many residents mistrust the authorities.
Red zone
Hours after news of the abduction emerged last month, the president demanded on Twitter (in Spanish) that the minister of defence and the chief of the armed forces "explain why Gen Alzate broke all security protocols and was dressed as a civilian in a red zone".
Speculation about what such a high-ranking officer was doing without support and in civilian clothes in such a dangerous area has been rife.
According to the soldier who piloted Gen Alzate's boat, the general had ordered him to travel downriver.
The soldier said that he warned the general, who was accompanied only by a corporal, Jorge Rodriguez, and a lawyer, Gloria Urrego, that they were getting dangerously far from their base in the town of Quibdo.
The general gave orders for the boat to dock at the small village of Las Mercedes, where Gen Alzate, Cpl Rodriguez and Ms Urrego disembarked, the soldier said.
In the village the three were surprised by Farc rebels who searched them and took them away, the soldier recounted.
The soldier said that he fled in the boat and raised the alarm in Quibdo.