Brazilian ex-President Joao Goulart 'not poisoned'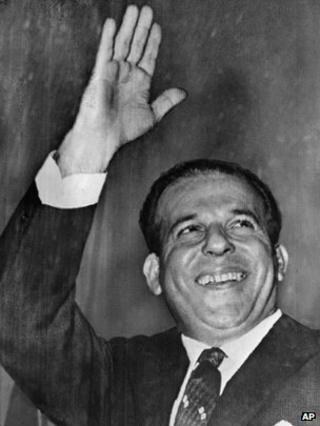 Forensic experts in Brazil have failed to find traces of poison in the remains of former President Joao Goulart, who was deposed in a military coup in 1964.
Mr Goulart, known as Jango, died of a heart attack in exile in 1976.
His remains were exhumed a year ago after a Uruguayan intelligence officer said that the former president had been poisoned by agents working for South America's military regimes.
An autopsy has concluded that he probably died of natural causes.
The Uruguayan agent said that Mr Goulart's medication for a heart condition had been replaced by poison in the days before his death.
Experts tested Mr Goulart's remains and coffin for more than 700 toxic substances, but failed to find a match, according to Folha de Sao Paulo newspaper.
"The samples analysed did not turn up any toxic medication or poison," forensic expert Jefferson Evangelista said.
But he said the results were inconclusive: "It is not possible to rule out poisoning, taking into account physical and chemical changes. Some substances disappear from the body over time."
Victory for democracy
The left-wing president was in office between 1961 and 1964, when he was ousted by a military coup. Democracy would only be restored in Brazil 21 years later.
Mr Goulart escaped to exile in Argentina and died in the town of Mercedes in 1976, aged 58.
Around that time, several former left-wing leaders died in suspicious circumstances.
Many believed they were being targeted by the Operation Condor, a secret cooperation between the military regimes in the region to arrest or kill opposition activists beyond their national borders.
Mr Goulart's remains were exhumed in November last year from a cemetery in his home town, Sao Borja, and taken abroad for testing.
The results of the tests were announced in Brasilia by Human Rights Minister Ideli Salvatti.
She described the investigation as a victory for democracy.
"A dictatorship can order an assassination for political reasons, but only a democracy can investigate the reason for a political assassination," said Ms Salvatti.
Despite the announcement, Brazil's National Truth Commission, which started work in 2012, said it would carry on investigating the circumstances around Mr Goulart's death.