Argentine footballer Franco Nieto dies after attack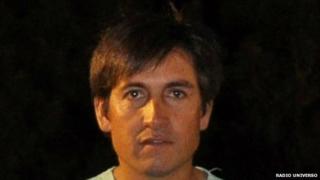 Argentine football player Franco Nieto, 33, has died after being struck in the head following a match on Saturday.
Nieto, the captain of regional club Tiro Federal, was attacked by hooligans after a match against rivals Chacarita Juniors in the town of Aimogasta, in north-west Argentina.
The match was stopped 15 minutes before full time after the referee sent off eight players for fighting.
This year, 15 people have died in football-related violence in Argentina.
Nieto's cousin, Pablo Nieto, said three people surrounded the player as he was going to his car with his wife and one-month-old daughter.
They kicked and punched him before one of the attackers struck Nieto in the head with a stone, leaving him unconscious.
He was operated on on Tuesday but died on Wednesday.
Local police chief Fabian Bordon told local media that three people had been detained in connection with the attack.
Football violence is a huge problem in Argentina.
According to the NGO Salvemos el Futbol (Let's Save Football), deaths caused by football-related violence have tripled in 2014.
The main culprits are the so-called Barras Bravas, gangs of radical supporters who control the terraces and the streets around the stadiums.