Mexico missing students: Pena Nieto visits Guerrero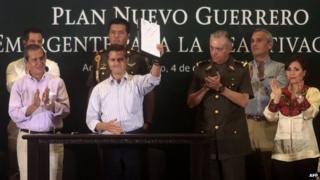 Mexican President Enrique Pena Nieto has visited Guerrero state for the first time since students disappeared at the hands of local police.
However Mr Pena Nieto did not visit the town of Iguala, where the 43 students were taken in September.
He sent his interior minister and national security chief instead.
The president announced an economic recovery plan for the city of Acapulco, struggling with gang violence and the impact of a hurricane last year.
"We are here because after what has happened, we recognise that Guerrero's most important economic activity has slowed." he said.
Two weeks ago, the US embassy in Mexico advised its nationals to "defer non-essential travel to Acapulco".
Las week President Pena Nieto announced a new security plan for justice and police reform. Federal security forces have been sent to dozens of towns in the states of Guerrero, Mexico, Michoacan and Morelos.
Federal police and troops will replace municipal forces in Acapulco and more than 30 other towns.
The reform is aimed at tackling mistrust in the authorities following the disappearance of 43 students.
There have been months of nationwide protests - some of them violent - since they were allegedly handed to a criminal gang by local police for execution.
The students went missing on 26 September after clashing with the municipal police force in Iguala.
Municipal officers have told investigators they were ordered to intercept the students by the local mayor. The officers said they handed the students over to members of a local drugs gang.
The Mexican attorney general says members of the drugs gang killed the students and burned their remains.
However, relatives of the missing say they will not believe the 43 are dead until there is forensic proof.
Tests on remains found at the rubbish dump where the bodies were allegedly burned are currently being tested.