Mexico missing students: Family mourns Alexander Mora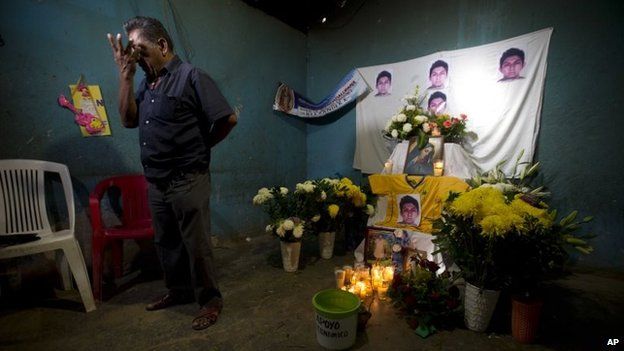 Relatives and friends have been mourning the death of Alexander Mora, one of the 43 Mexican students who went missing on 26 September after clashing with police in the town of Iguala.
Forensic experts confirmed on Saturday that charred remains found in a river near Iguala were those of Mr Mora.
Tests continue on more remains found at the same location and other places.
The case has triggered mass protests against corruption and collusion between the authorities and drug gangs.
Friends and neighbours filed into the modest home of Alexander Mora's family to pay their respects before an altar adorned with candles, photos and a football shirt belonging to the dead student.
On Saturday, the family of Mr Mora had been told that forensic tests suggested a bone fragment found in a stream near the town of Cocula belonged to Alexander.
Experts from a laboratory at the University of Innsbruck in Austria said DNA recovered from the bone had been matched to that taken from relatives of the student.
Alexander's brother Omar said the family was struggling to take in the news.
"We can't believe this is happening to us. We can't believe it and in truth it is very traumatising, all of what we are going through," he told the Associated Press news agency.
Alexander Mora, 19, came from the small village of El Pericon, in western Guerrero state. According to his father Ezequiel, Alexander dreamt of becoming a sports teacher.
"We live off the land, and he helped us in the fields, but he was determined to study," Mr Mora recalled.
The second youngest of eight siblings, he was the only one who wanted to leave the village, his father said.
"That was my son's dream, to become a teacher, but, there's nothing we can do now, they took away my son's dream," he said.
His sister Edith demanded justice be done.
"My brother was killed like an animal, but he was an innocent boy who knew nothing about life," she said.
Alexander Mora was in his first year of studies at the rural teacher training college in Ayotzinapa, a college with a tradition of left-wing political activism.
He was part of a group of students who travelled to nearby Iguala on 26 September and, as part of a protest, commandeered a number of buses.
On their way back to their college the students were intercepted by police allegedly on the orders of the local mayor, who wanted to prevent them from disrupting a speech his wife was giving at a public event that evening.
26 Sept Ayotzinapa: Students depart college
26 Sept Iguala: Students clash with police following protests
27 Sept Cocula: Forty-three students taken to the police station before being allegedly handed over to local drugs gang
Early Nov Puente Rio San Juan: Remains discovered - in a stream and at a rubbish dump where the gang had allegedly burned the bodies
Police chased down one busload of students trying to flee the shooting and took them to a local police station.
Municipal police officers have told investigators they then handed them over to a drugs gang calling itself Guerreros Unidos (United Warriors).
Mexico's Attorney General Jesus Murillo Karam said members of the drugs gang confessed to killing the 43 students and burning their remains at a rubbish dump on the outskirts of Cocula before dumping them in rubbish bins in a nearby stream.
Alexander Mora's bone was one of those found in a rubbish bag in the stream.
Mr Murillo Karam said the results of the forensic tests showed that the authorities had been pursuing the right leads.
But a lawyer for the relatives of the missing said that while they accepted the result of the test, they "did not believe in the version of events given by the prosecutor's office".
A team of international forensic experts which has been helping Mexican investigators released a statement on Sunday saying its representatives had not been present when the bag containing Mr Mora's remains was found.
The statement said members of the international team had been called to the site when "the bag of remains had already been opened and the evidence laid out".
The forensic team stressed this did not cast doubts on the identification of Mr Mora's remains but they nevertheless urged that the search for the remaining 42 students continue.