US university withholds price paid for Garcia Marquez archive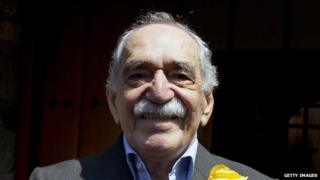 The US university which bought the archive of the late Colombian author Gabriel Garcia Marquez has refused to say how much it paid for the documents.
The University of Texas bought the Garcia Marquez archive last month.
The university has in the past disclosed the price it has paid for other collections.
But officials said releasing it could drive up the cost of future collections in the "increasingly competitive" world of buying rare manuscripts.
Price war
"Sellers routinely look for a precedent-setting price so they can set increasingly higher prices that hurt the university, and hurt the taxpayers who help fund the university," university spokesman Gary Susswein said.
The Associated Press news agency had asked the university to reveal the purchase price back in November.
After it was rebuffed, the agency filed a formal request under a Texas state public records law for the contract to be made public.
On Wednesday, the university told the AP it would ask Texas's attorney general for permission to keep those details secret.
Multi-million dollar purchases
Colombia and Mexico had expressed their disappointment when it was revealed the archive would go to the University of Texas at Austin.
Gabriel Garcia Marquez is hailed as Colombia's most famous writer, but he spent much of his life in Mexico, where he died in April.
He was awarded the Nobel Prize for Literature in 1982 "for his novels and short stories, in which the fantastic and the realistic are combined in a richly composed world of imagination, reflecting a continent's life and conflicts".
The archive spans more than 50 years and includes letters between Garcia Marquez and writers such as Graham Greene, Gunter Grass and Carlos Fuentes.
It also includes manuscripts for 10 of his books, among them the original of One Hundred Years of Solitude, his most famous novel.
The archive will be housed at the University of Texas's Harry Ransom Center, which already boasts a collection of works of renowned Argentine writer Jorge Luis Borges.
In 2005, the Ransom Center bought the papers by reporters Bob Woodward and Carl Bernstein on the Watergate scandal for $5m (£3.2m).