Farc 'amnesty': Colombian marchers reject 'impunity'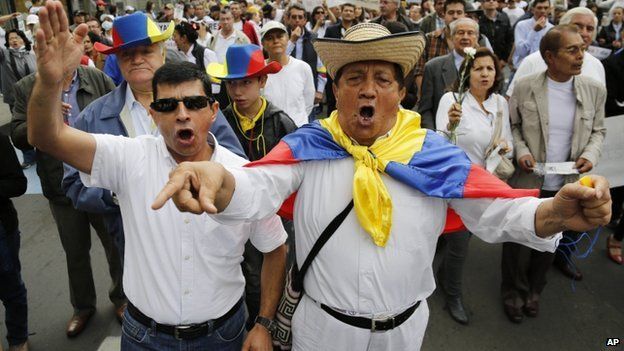 Thousands of people have joined protests in Colombia against a possible amnesty for Farc rebels as part of a peace process to end 50 years of conflict.
Many of the marchers were supporters of former President Alvaro Uribe, an opponent of his successor, Juan Manuel Santos.
They argue that peace should not come at the price of impunity.
In two years of talks in Havana, a number of issues have been agreed.
Negotiators are now discussing how the left-wing rebels should lay down their arms, and whether they should face prosecution for human rights atrocities and drug trafficking.
The rallies in several cities across the country were organised by the Colombia Quiere movement and backed by the Centro Democratic Party of former President Uribe.
In Medellin, where Mr Uribe led the march, he said: "We call on the army to support us by fighting and defeating the guerrillas, if the government wants it or not."
On social media he said: " It is better to protest than to let them deliver the country to terrorism."
Mr Uribe and his allies have argued that the Farc should answer for killings, kidnapping and drug trafficking.
They have accused President Santos of overlooking rebel atrocities in order to drive through the peace process.
But the two sides have already gone further than any other peace process in the past between the government and the rebels.
Negotiators in the Cuban capital have reached agreements on agrarian reform, political participation for Farc and how to jointly fight the illegal drug trade.
They have left the most difficult issues till last, namely how Farc will lay down its arms and whether commanders will face prosecution for atrocities.
The talks have been going on in Havana for two years.
This weekend saw seven people, five members of a family and two armed men, die during a shootout between two armed groups.
The murders took place in the rural municipality of Amalfi, in the department of Antioquia.
The authorities were not able to say if the armed men were part of criminal gangs, or Farc or ELN rebels, although both groups operate in the area.