Rios Montt Guatemala genocide retrial suspended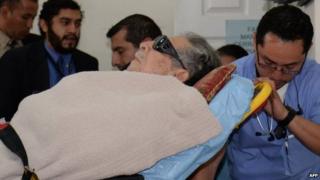 The retrial on genocide charges of Guatemala's ex-military ruler General Efrain Rios Montt has been suspended after it began.
The 88-year-old was wheeled into court on a stretcher, with his lawyer saying he was suffering from poor health.
But the court accepted defence appeals that one judge was not impartial.
The general was found guilty in 2013 of ordering mass killings of indigenous people in the early 1980s, but his conviction was later overturned.
Gen Rios Montt is the first former head of state to face genocide charges in his own country.
Overturned
He and his former intelligence chief, Gen Jose Rodriguez, were tried in 2013 on charges of ordering the army to carry out a series of massacres in which 1,771 people of the Ixil Maya ethnic group were killed.
Over three days in the early 1980s, soldiers systematically killed hundreds of men, women and children, shooting or bludgeoning them to death and throwing bodies down a well.
Gen Rodriguez was acquitted while Gen Rios Montt was found guilty and sentenced to 80 years in prison.
Less than two weeks after Gen Rios Montt's conviction, Guatemala's highest court threw out the verdicts and ordered a retrial, arguing that the accused had been left without a lawyer at key stages of the trial.
The ruling annulled everything that had happened in the trial after 19 April 2013, the day when the defence team was expelled for accusing the presiding judge of failing to hear its legal challenges.
Gen Rios Montt and Gen Rodriguez have been under house arrest since.
Gen Rodriguez arrived at the tribunal in Guatemala City in a wheelchair on Monday saying that he did not fear a renewed trial.