Colombia: Farc's truce 'threatened by military action'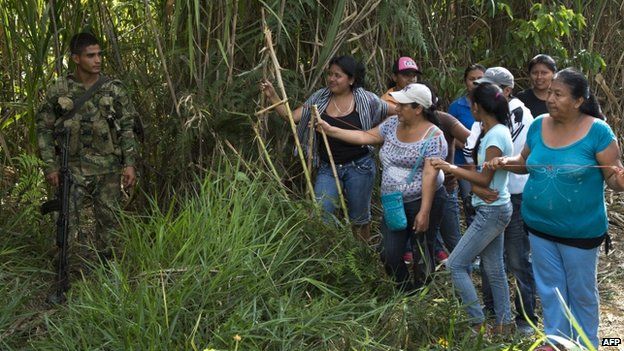 Colombia's largest rebel group, the Farc, says the unilateral truce it declared last month is being threatened by the army's continuing attacks.
The Colombian government and the Farc have been engaged in peace talks in Cuba since November 2012.
The rebels have called for a bilateral ceasefire during the talks, which are aimed at ending more than five decades of conflict.
But the government has refused, saying the Farc would used the truce to rearm.
On 20 December, the left-wing rebels declared a cessation of all military action for an indefinite period of time, in an unprecedented move.
It should become a formal armistice and would only end if they were attacked, they said.
On previous occasions, the Farc declared brief truces, usually over a period of a few weeks around the Christmas holidays.
In a statement released in the Cuban capital, Havana, the rebels have now urged the army to cease the attacks against its forces.
"This senseless attitude of hostility not only goes against the wishes of peace from most people in the country but is also a serious threat to the truce," read the statement.
The talks are focusing on six main issues:
land reform
political participation
drug trafficking
rights of victims
disarmament of the rebels
the implementation of the peace deal.
There has been agreement on the first three issues on the agenda. Over the past few months, the two sides have been discussing the rights of the victims.
The final aim is to get the Farc to lay down its weapons and join the official political process.
Some 220,000 people, most of them civilians, are estimated to have been killed since the Marxist-inspired rebels launched their armed struggle in 1964.