Mexico missing: Protesters try to enter army base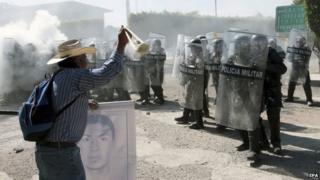 Relatives and supporters of 43 Mexican students who disappeared in September in the south-western state of Guerrero tried to gain access to an army base in the town of Iguala on Monday.
The protesters demanded to be let in to search for the missing students.
They accuse the security forces of colluding in their disappearance.
Local police officers have confessed to handing the students over to a drugs gang, but they have not been seen since and their families are still searching.
'Not giving up'
Prosecutors say members of the Guerreros Unidos (United Warriors) drugs gang told them they had mistaken the students for members of a rival gang.
They said they killed them and burned their remains, which they tossed into a river.
A bone found in the stream has been matched to one of the 43 students, Alexander Mora.
More remains are still being tested at a specialised laboratory at the University of Innsbruck in Austria, but they are so badly burned it is not clear they can ever be identified.
The relatives of the missing students have refused to give up their search until they are presented with evidence which proves their loved ones are dead.
'Criminal links'
They say soldiers witnessed a clash between the students and local police which immediately preceded their disappearance, and failed to intervene.
For weeks, the relatives have been demanding an investigation into the role of the military on the night of the disappearance.
The case has triggered a series of mass protests by Mexicans who say they are fed up with the high levels of collusion between criminal gangs and local authorities.
On Monday, judicial authorities said the wife of the mayor of the Iguala at the time of the students' disappearance would be tried on suspicion of being involved in organised crime.
A court statement said a judge had found evidence Maria de los Angeles Pineda had been acting as a financial intermediary for the Guerreros Unidos gang and had helped protect it.
But a federal court statement made no mention of any charges in connection with the disappearance of the 43.
Her lawyer did not comment.