Mexico students: Austria DNA tests fail to match remains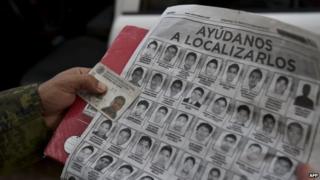 Forensic scientists in Austria have failed to match burnt human remains with DNA samples in a Mexican inquiry into missing students, officials say.
Mexican prosecutors said scientists at Innsbruck University were unable to find sufficient DNA in the remains believed to belong to the 43 students.
The laboratory is now offering to carry out a more advanced test on samples not rendered unusable by excessive heat.
The students disappeared in the south-western city of Iguala on 26 September.
The new test would take about three months and it is uncertain whether the examination of the last remaining samples will offer any clues.
It is alleged that the group of trainee teachers was seized by local police before being handed to a drug gang.
Prosecutors say the gang killed them, dumped and incinerated their bodies at a waste site, and scattered the ashes in a local river.
Only one student has been identified from the charred remains.
Families of the students have told the BBC they were neither informed of the test results from Austria nor asked permission to carry out a new test.
The forensic scientists at Innsbruck are considered leading experts in identifying damaged remains through DNA testing.
In 2004 the lab reconstructed DNA profiles of victims of the Asian tsunami whose bodies had been rotting in extreme heat and humidity.