Argentine leader convinced Nisman death was no suicide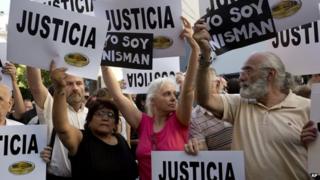 Argentine leader Cristina Fernandez de Kirchner says she is convinced the death of top Argentine prosecutor Alberto Nisman was not suicide.
Mr Nisman, 51, was found shot dead in his apartment on Sunday.
The prosecutor probing his death said it appeared to be suicide.
But in a letter published on Thursday, Ms Fernandez cast doubt on that theory.
Mr Nisman had been investigating the 1994 deadly bombing of a Jewish centre.
Eighty-five people died in the bombing in Buenos Aires. It was Argentina's worst terrorist attack.
Days prior to his death, Mr Nisman had accused Ms Fernandez and Foreign Minister Hector Timerman of involvement in a plot to cover up Iran's alleged role in the 1994 bombing on the seven-storey Amia community centre.
He died just hours before he was due to give details of his allegations to a congressional committee.
Controversial allegations
Mr Nisman based his allegations on intercepted conversations which seem to suggest Argentine intelligence officers tried to whitewash the Iranian suspects in the 1994 bombing.
In a 300-page report, he alleged that after years of tension caused by the 1994 bombing, the government of Ms Fernandez was keen to improve ties with Iran in order to trade Argentine grain for badly needed oil.
Government spokesman Anibal Fernandez dismissed the allegations on Wednesday as "absolutely feeble".
In a letter published on her Twitter account [in Spanish], President Kirchner said Mr Nisman had been provided with "false information" and that the spies he quoted were not really spies at all but had misled him deliberately.
She also referred to his death as "the suicide (I'm convinced) was no suicide".
---
Analysis: Wyre Davies, Buenos Aires
While President Fernandez de Kirchner's letter suggesting that Alberto Nisman was, after all, probably murdered is important, she is only falling in line with overwhelming public opinion.
The bottom line is that this beleaguered government has been further weakened by Mr Nisman's death and few people have faith in the state institutions to solve the crime.
Nor do there appear to be significant breakthroughs in the investigation into the 1994 bombing of the Amia cultural centre in Buenos Aires in which 85 people died.
Mr Nisman had again pointed the finger at Iran (and Hezbollah) and had accused Ms Fernandez's administration of trying to cover up Iran's alleged involvement in exchange for lucrative oil deals.
While not volatile, the situation in Argentina is tense.
The government has already rejected Mr Nisman's allegations but it will have to show it is taking the investigation into his death seriously and without prejudice.
---
Induced?
Investigating prosecutor Viviana Fein had said on Monday that there had been "no intervention" from others in Mr Nisman's death.
She said the bullet found lodged in his head had been fired at close range from the gun which had been found lying next to Mr Nisman's body.
Ms Fein added that the apartment's door had been locked from the inside and that the key was in the lock.
She said there was no evidence of any outside "intervention", although she did not rule out the possibility that Mr Nisman had been "induced" to kill himself.
Relatives and friends of Mr Nisman, who had spoken to him in the days prior to his death, said he appeared confident and in good spirits, although he did mention receiving threats.
New leads
Media speculation about whether Mr Nisman's death was a suicide has been mounting as new statements and evidence emerge.
On Tuesday, it was revealed that a test failed to detect any gunshot residue on Mr Nisman's hands.
While Ms Fein said that the negative result could be due to the small calibre of the gun, it reignited suspicion that Mr Nisman did not pull the trigger.
Remarks made by the locksmith who was called to gain access to Mr Nisman's flat further fuelled speculation.
The man, who only gave his name as Walter, described how it had taken him only two minutes to get in.
He said that the service door "was closed but not locked" and that it had been easy to "simply push the key" which was on the inside with the help of a wire.
"If someone entered or not, I don't know," he added.
Apart from the locked main door and the service door, investigators have found a third way into the apartment.
They said a narrow corridor housing air conditioning equipment linked Mr Nisman's flat to that of a neighbour.
Recent footprints and fingerprints found inside the corridor are currently being tested.