Venezuelans demonstrate against President Maduro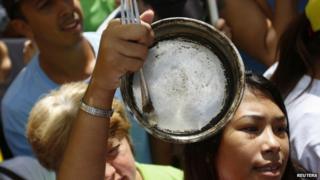 Thousands of Venezuelans have attended an opposition march in Caracas, blaming government policies for the country's worsening economic crisis.
Saturday's march was the first attempt by the opposition in months to revive the protest movement that rocked the country last year.
Many banged empty pots, in reference to the shortage of many staple foods.
Riot police blocked the demonstrators' access to the city centre, but there were no major clashes.
Opposition politician Maria Corina Machado said Mr Maduro "must step aside now, so the Venezuelan people can stand united again".
Demonstrators voiced discontent at high inflation, crime and shortages.
"There are food shortages, shortages even in drugstores, prices have gone up across the board, meat costs twice what it did recently," architect Jose Salinas told AFP news agency.
Despite the deepening crisis the crowds were smaller than in previous demonstrations.
Venezuela - a major oil producer - has been heavily affected by the fall in oil prices on international markets.
'Enough of sabotage'
On Friday, President Maduro called on the National Assembly to open an inquiry into what he described as "an economic war" waged against his socialist government.
He accused four supermarket chains of hoarding goods and smuggling items out of the country.
"This week I will produce the evidence," Mr Maduro said.
"For many years they have been hiding goods from the Venezuelan people. They have a system to spread rumours and create problems, anxiety and queues," he added.
"Enough of sabotage against the people!"
The Venezuelan economy officially entered recession in December.
Figures released by the central bank showed that GDP declined by 2.3% in the third quarter of 2014, after contracting by 4.8% and 4.9% respectively in the first and the second quarters.
Inflation in Venezuela reached 63.6% in the 12 months to November, one of the highest rates in the world.
Mr Maduro has accused the United States of flooding the markets with oil as part of an economic war against Russia.