Venezuela denies Pinera and Pastrana access to Lopez in jail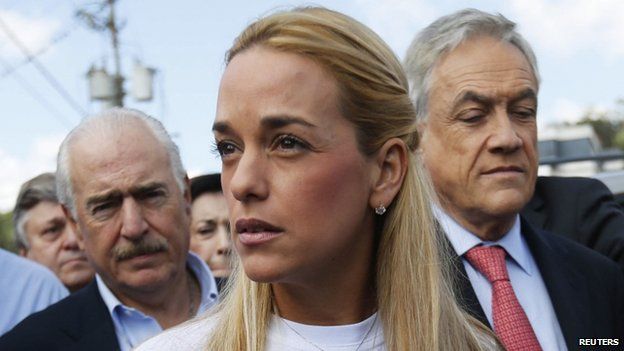 The Venezuelan government has turned down a request by former presidents of Chile and Colombia to visit opposition leader Leopoldo Lopez in jail.
Chile's Sebastian Pinera and Colombia's Andres Pastrana say they are in Venezuela to support the opposition.
They called for the release of Mr Lopez, who was arrested nearly a year ago.
Venezuelan President Nicolas Maduro accused the former leaders of taking part in a coup plot against him.
Mr Pastrana criticised the decision, saying "a president does not need official authorisation to visit a political prisoner".
Mr Pinera and Mr Pastrana travelled to Venezuela to attend a forum on democracy organised by the opposition.
Mr Lopez is being held in a military jail in the outskirts of Caracas.
He gave himself up during an opposition march 11 months ago after having an arrest warrant issued against him.
More than 40 people from both sides of the political divide were killed in protests which took place in Venezuela between February and May.
The government said opposition leaders, including Mr Lopez, had incited protesters to violence.
The opposition accuses the socialist government of Mr Maduro and his predecessor, the late Hugo Chavez, of mismanaging the economy.
On Saturday, thousands of opposition supporters took to the streets of Caracas for the first time in months to complain about the worsening economic crisis.
Many banged empty pots, in reference to the shortage of many staple foods.
Mr Maduro says businessmen linked to the opposition are waging "an economic war" against the Venezuelan people and the government.
He accused four supermarket chains of hoarding goods and smuggling items out of the country and promised to produce the evidence in the next few days.
Venezuela - a major oil producer - has been heavily affected by the sharp fall in oil prices on international markets.