Argentina press lambasts President Cristina Fernandez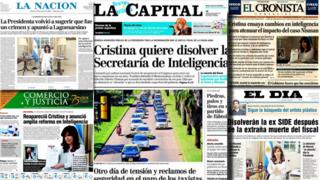 The decision of Argentine President Cristina Fernandez de Kirchner to disband the country's intelligence agency dominates front pages.
She announced the move after the death of prosecutor Alberto Nisman.
Some commentators criticise her address as a bid to portray herself as a victim, while others welcome the announced reform as long overdue.
A number of papers suggest that in order to defend her handling of the investigation into the 1994 bombing of a Jewish centre, led by Mr Nisman, the president sought to present his death as a plot to discredit the government.
Her goal was to "challenge public opinion and to confuse with new information", writes Jesica Bossi in conservative daily La Nacion.
"The government's plan is to pin the blame on Lagomarsino," reads a headline in popular daily Clarin, referring to the prosecutor's close associate, Diego Lagomarsino, who lent Mr Nisman the pistol with which he was killed.
Mr Lagomarsino has been charged with giving a gun to someone who is not its registered owner.
Left-wing Pagina 12 features a piece detailing the president's allegations that Mr Lagomarsino's brother is linked to the media giant Grupo Clarin, her old enemy.
"No self-criticism. No evidence. No condolences," reads the headline of an opinion piece by Martin Rodriguez Yerba in La Nacion, pointing to the fact that the president failed to offer condolences to the prosecutor's family.
"Cristina mixes up facts with deductions of a crime reporter. She has already made a hypothesis on the crime, she has a prime suspect: Diego Lagomarsino... The crime has been solved," writes Ricardo Roa in Clarin. He adds that the president sticks to whatever suits her and seeks to break away from what does not.
Theatre
Fernando Gonzalez, chief editor of business daily El Cronista, calls the president's appearance on national TV "theatrical" - dressed all in white, sitting on a wheelchair, showing off the plaster on an ankle she fractured.
In Clarin, Lucia Salinas points out that Ms Fernandez is usually meticulous about her image. Just last week she made sure her injury was not visible on photos. "This time she did not attempt to hide it."
"She wanted to appear as vulnerable," writes Martin Rodriguez Yerba in La Nacion.
"She wanted to present herself as a victim of all demons - prosecutors, judges, intelligence services and the media," agrees Ricardo Roa in Clarin.
However, instead "she ended up relating a disturbing tale of a state, where dark intelligence agents extort and even kill to defend their power", writes Martin Rodriguez Yerba.
Fernando Gonzalez writes: "Nisman's death has shown… that nobody is in control of intelligence agents. Neither Cristina, nor other officials, opposition or judges."
Several papers welcome the president's announcement of the overhaul of the country's intelligence agency.
The English-language Buenos Aires Herald says it is long overdue.
But while the president presented the reform as "nothing short of a revolution" - as Ricardo Roa notes with a pinch of irony - the proposed change amounts to little more than a name change for the intelligence agency, says Martin Rodriguez Yerba in La Nacion.
BBC Monitoring reports and analyses news from TV, radio, web and print media around the world. You can follow BBC Monitoring on Twitter and Facebook.