Venezuela drops tourism advert with detained US reporter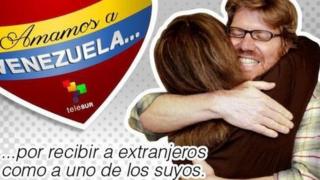 A US reporter detained while covering the 2013 elections in Venezuela has become the unlikely star of a Venezuelan tourism advert.
The image on TeleSur's twitter feed showed a man being hugged with the line: "We love Venezuela for receiving foreigners like one of our own."
That man however was journalist Jim Wyss being welcomed home to the US shortly after his arrest.
TeleSur declined to comment. The advert has been withdrawn.
Mr Wyss was not aware his image had been used until a friend in Venezuela told him about it.
"I don't know if it was an accident or if someone in Telesur has a very good sense of humour," he told the BBC.
"They pulled it from Twitter and their website, so I guess it was an accident."
He was detained for two days during the 2013 elections for not having a journalist's visa.