Argentine president's tweet on Chinese accent ridiculed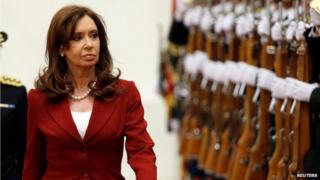 Many twitter users in Argentina and China have ridiculed Argentine President Cristina Fernandez de Kirchner for poking fun at how the Chinese speak.
During a visit to China, Ms Fernandez made reference to how some Chinese struggle to pronounce the letter "r".
Tweeting in Spanish, she wondered whether those at an event about trade were there for "lice" and "petloleum".
Her supporters said it was a light-hearted joke, but others disagreed.
"Cristina Fernandez's lack of judgement and respect is incredible," wrote @FaundezLafarga. "She goes to China looking for (economic) agreements and she makes fun of their accents."
Financial Times' journalist @GuyChazan wrote: "Faux pas in China. Really, this sort of joke went out of fashion in the 70s."
Trending topic
President Fernandez suggested that the Chinese struggled to pronounce "rice", "petroleum" and "Campora", the Spanish name given to the youth wing of her political party.
"More than 1,000 participants at the event... Are they all from the Campola and in it only for the lice and petloleum?" she tweeted.
It was a play on a domestic political joke: her critics accuse her supporters of attending party events only so they can get a free sandwich and a soft drink.
The president, a prolific Twitter user, later added: "Sorry. You know what? The levels of ridiculousness and absurdity are so high that they can only be digested with humour."
The BBC's Ignacio de los Reyes in Buenos Aires said that Campola and China became trending topics on Twitter in Argentina and that episode filled the front pages of all newspapers.
Ms Fernandez is in China to boost trade with Argentina.
There has been no official response from her Chinese hosts.