Gunmen kidnap 12 near south Mexico gold mine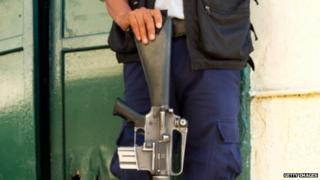 Armed men in Mexico have kidnapped at least 12 people in the southern state of Guerrero where 43 students were abducted last year.
A spokesman for the state prosecutor said some of those taken were workers at the mine.
Local gang Guerreros Unidos was linked to the students' disappearance.
The owners of the gold mine, however, told AP news agency only one of their employees may have been caught up in the incident.
A spokeswoman for the Canadian company, Torex Gold Resources, rejected reports that the company could be a victim of extortion.
Gabriela Sanchez, a company vice-president, said the abduction had not taken place inside the grounds of the Media Luna mine.
The company has about 250 employees in the area and at least 1,000 more who are contract workers.