Brazilian Beatles fan Lizzie Bravo on singing with the Fab Four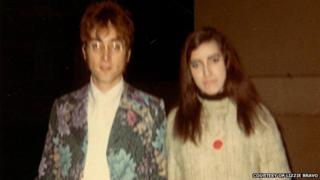 When she was a teenager, Lizzie Bravo used to stand outside Abbey Road studios every day, hoping to catch a glimpse of the Beatles.
The Brazilian moved to London in the late 1960s to work as an au pair.
Between shifts, she hung around the entrance to the famous building on the off chance that John, Paul, Ringo or George would drop by.
On 4 February 1968 she got her wish - and also carved out a place in pop music history by singing backing vocals on a version of Lennon's ballad Across the Universe.
The story, which she recaps in an upcoming memoir From Rio to Abbey Road sounds like the script of a teen movie.
Especially when Ms Bravo explains that the encounter unfolded in quite a surreal way.
"We were outside the studio as usual. Paul simply came outside and asked if any of us could hold a high note," Ms Bravo told BBC Brasil.
"I immediately raised my arm, as I was a soprano at my school choir back in Rio de Janeiro. But I had no idea why Paul asked that."
Ms Bravo and fellow Fab Four fan Gayleen Pease were escorted to the legendary Studio Two, which had hosted all the Beatles recording sessions since 1963.
"The four of them were there recording this song," she said.
"All of a sudden I was hearing instructions from Paul and John about the part they needed us to sing. I was sharing the same microphone as Paul and John, who had always been my favourite Beatle."
Ms Bravo said the session lasted for "about two hours". She then returned to her "vigil" outside the studio, while Gayleen Pease went home.
"Nothing really changed. We didn't become friends with the Beatles or anything.
"Friends wouldn't keep you waiting outside in the cold till late," she said cheekily.
Moving on
Ms Bravo's adventures in London ended in October 1969.
She was homesick, but she had also noticed that the camaraderie she had seen during the Across the Universe sessions seemed to have faded.
"The Beatles weren't coming to the studio every day and most of the time they wouldn't even be there together. It was time to move on."
Ms Bravo went on to become a successful backing singer, working with some of the most famous names in Brazilian music, including Milton Nascimento and Joyce.
Now aged 63, she decided to publish her diaries as a tribute, to what she calls, a more innocent time.
"The Beatles achieved God-like status, but they were always very down to earth.
"There was never an entourage or bodyguards lingering around. It's important for younger generations to know that things weren't that complicated before. Stars didn't live at the top of perches."
After she left London, Ms Bravo only had one more encounter with the Beatles.
In February 1990, she attended a press conference held by Sir Paul McCartney in the United States, to announce his first-ever shows in Brazil.
The music fan, who is also a professional photographer, was invited by a Brazilian newspaper to document the event.
However, upon her arrival she was told that only the official photographer would be allowed to take pictures.
She sat at the back of the room until the conference ended. The former Beatle then went around thanking people for coming.
He stopped in front of Ms Bravo and asked: "Why do I think I know you?"
"I just said 'well, we sang in the same microphone a while ago'. But I was quite impressed with Paul's memory," she said.
Singing in Space
One thing had certainly slipped Sir Paul's mind was that Ms Bravo had not received her session fee for the Across the Universe job.
She has no plans to send an invoice anytime soon though.
As well as singing with the Beatles, Ms Bravo also accompanied them to space, sort of.
In 2008 the version of Across the Universe that she sang on was beamed by Nasa towards the North Star, Polaris, located 431 light years from Earth.
The event marked 40 years since the ballad was recorded and coincided with Nasa's 50th anniversary.
"How could I ever complain," she said.
"Few people in the world have had the chance to even be in the same room as the Beatles, let along sing with them in space."
Ms Bravo's daughter Marya has kept up the family's musical tradition, by joining the cast of the musical The Beatles in a Diamond Sky, which has been watched by over 350,000 people in Brazil.
She is still looking for a publisher for the English version of From Rio to Abbey Road. In Brazil the book will be published using crowd funding.