Colombian soldiers killed by roadside 'rebel' bomb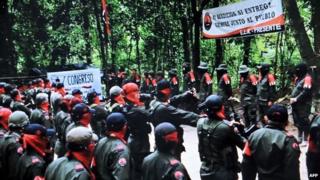 Three Colombian soldiers were killed on Sunday when an explosive device blew up the armoured vehicle they were in.
The army said the device was planted by Colombia's second largest rebel group, the National Liberation Army (ELN).
The attack happened in Norte de Santander province, near the border with Venezuela, where the ELN has its stronghold.
The ELN announced last year that it was willing to enter into peace talks with the Colombian government.
However, formal talks between the two sides have not yet begun.
The ELN, a Marxist rebel group founded in 1964 to fight Colombia's unequal distribution of land and riches, is estimated to have some 1,500 active fighters.
It is smaller and commands less territory than Colombia's other Marxist rebel group, the Revolutionary Armed Forces of Colombia (Farc).
Peace talks between the government and Farc have been going on for more than two years, with the latest round ending last Thursday.
The two sides have reached partial deals on several issues but have not yet reached a definitive peace accord.