Venezuela police raid arrests Caracas mayor Antonio Ledezma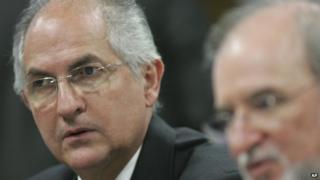 The mayor of Venezuela's capital, Antonio Ledezma, has been arrested amid accusations of a coup attempt.
President Nicolas Maduro said the opposition leader must answer "for all the crimes committed against the country's peace and security".
Camouflaged police smashed into the mayor's office and carried him away.
The arrest comes on the anniversary of the start of months of protests against Mr Maduro's rule that left dozens of people dead.
The Human Rights Watch group has called for Mr Ledezma's immediate release.
Hundreds of people gathered at the intelligence agency's HQ in Caracas to protest at the arrest.
Mr Maduro said: "Mr Ledezma, who today by order of the prosecution was captured, must be processed by Venezuelan justice to answer for all the crimes committed against the country's peace, security, constitution."
'Like a dog'
Mr Ledezma was on a list of people and foreign powers named by Mr Maduro last week as attempting to bring down his administration.
Mr Ledezma, Caracas mayor since 2008, replied that it was government corruption that was bringing down Venezuela.
He was taken on Thursday from his office in the banking district.
Opposition legislator Ismael Garcia wrote on Twitter: "I just saw how they took Ledezma out of his office as if he were a dog. They broke down the doors without an arrest warrant."
A member of Mr Ledezma's security detail said about 10 men with guns and a hatchet came for the mayor, bundling him out of the building.
Last year, weeks of anti-government protests led to more than 40 deaths.
Venezuela's economy has been heavily affected by the drop in oil prices and in late January, thousands of Venezuelans joined an opposition march in Caracas.
They voiced dissatisfaction with high inflation, crime and the shortage of many staple goods in the shops.