More than 100 animals rescued from overcrowded Mexico zoo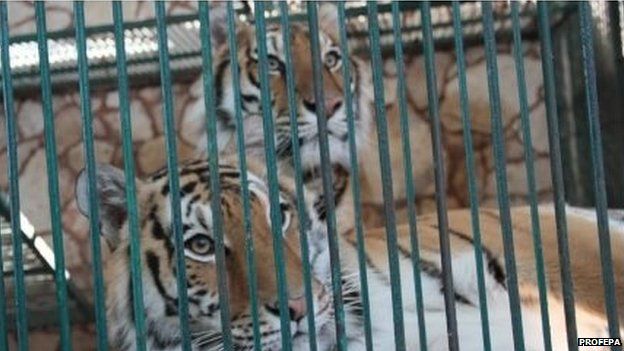 More than 100 animals have been rescued from an overcrowded private zoo in Mexico.
Mexican environmental officials raided the zoo, which is owned by a conservative congressman, after complaints from visitors.
They found overcrowded and cramped cages piled on top of each other and unsafe conditions for visitors.
Among the animals rescued were lions, tigers, jaguars, pumas, bears, buffalos and camels.
The zoo in Tehuacan, about 200km (120 miles) south-east of Mexico City, is owned by Sergio Gomez, a member of Congress for the National Action Party (Pan).
Officials said they had seized 101 of the 240 animals held at the zoo.
They said they were being kept in deplorable conditions and lacked proper care.
The cages lacked proper ventilation and the animals were cramped together, making them aggressive, the officials said.
Visitors were also not properly protected and could insert their hands freely into the cages, they added.
Officials said they would try to find suitable new homes for the animals.
Mexico legislators have recently passed a series of laws aimed at minimising animal mistreatment.
Mexico City and six states have banned the use of animals in circuses and in December the federal congress voted to do the same on a nationwide scale.