Ex-Colombian spy chief Maria del Pilar Hurtado convicted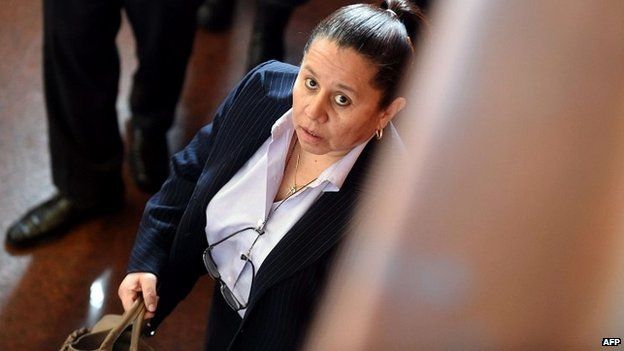 The former head of Colombia's secret police, Maria del Pilar Hurtado, has been found guilty of spying on politicians, judges and journalists.
The Supreme Court said Hurtado's sentence would be announced in 15 days.
Those targeted in the spying, which occurred between 2007 and 2008, were all political opponents of Alvaro Uribe, who was president at the time.
His former chief of staff has also been convicted but Mr Uribe denies any knowledge of the illegal intercepts.
Both Hurtado and Mr Uribe's former chief of staff, Bernardo Moreno, face more than 10 years in jail.
All nine Supreme Court justices, none of whom were among those targeted in the spying, voted in favour of the convictions.
Moreno will remain free on bail until he is sentenced, but Hurtado is being held in prison.
She fled Colombia in 2010 after Mr Uribe left office and the allegations were made public.
She was granted asylum in Panama but turned herself over to the authorities last month after her asylum was revoked.
Mr Uribe, who was in office between 2002 and 2010, is now a senator in the opposition to President Juan Manuel Santos.
His former agriculture minister has also been convicted of corruption and several of his former officials are being investigated over similar claims.