Uruguay leaders display their love for vintage cars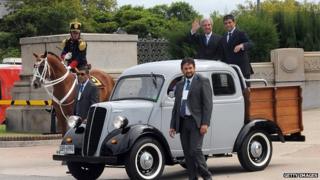 Uruguay's outgoing president Jose Mujica and incoming leader Tabare Vazquez put their love for vintage cars on display at Sunday's inauguration ceremony.
Mr Mujica drove to the ceremony in his 1987 sky-blue Volkswagen Beetle.
Mr Vazquez meanwhile paraded through the city following his swearing-in on the back of a 1951 Fordson lorry.
Mr Mujica, a former rebel who leads an austere life, was dubbed "the world's poorest president".
'Pauper president'
His VW Beetle, valued at $1,800 (£1,170), hit the headlines when it was the only asset listed on the annual personal wealth declaration of the then-president.
In later years, Mr Mujica added half of his wife's assets to the list, such as tractors and the farm they own.
Throughout Mr Mujica's presidency, the first couple lived at their humble farm on the outskirts of the capital, Montevideo, eschewing the luxuries of the presidential palace.
Last year, Mr Mujica said an Arab sheik had offered him $1m (£650.000) for his VW Beetle.
He said at the time he would not sell the car because he needed it to transport his dog Manuela, which only has three legs.
There were conflicting media reports as to where Mr Vazquez's 1951 Fordson truck came from.
Some reported that it was the very same lorry which had belonged to Mr Vazquez when he was a young doctor.
They said his friends had scoured the country to find the old car, restored it and gave it to him as a present on the day of his inauguration.
Other newspapers said Mr Vazquez had bought the lorry himself years ago and had it restored as it reminded him of the first car he had owned.
This is the second time Mr Vazquez will serve as president.
At his previous inauguration ceremony in 2005, a vintage car also featured prominently.
That time Mr Vazquez travelled the first few metres of the parade route in a Ford Model T bought by his wife's family in the 1920s.
Both Mr Vazquez and Mr Mujica form part of the Broad Front coalition which represents parties from the left to the centre-left.
Mr Mujica is going to continue his political life as a senator,
Mr Vazquez is expected to continue driving forward Mr Mujica's policies, including plans to make Uruguay the first country to legalise the growing, sale and consumption of marijuana.