Brazil arrests fugitive Italian writer Cesare Battisti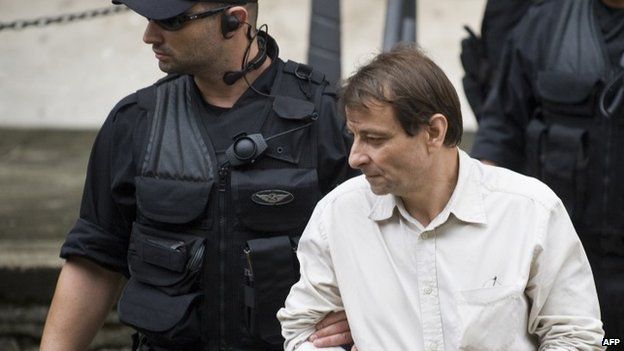 Brazilian police have arrested fugitive Italian writer Cesare Battisti, a former communist militant convicted of murder in his home country.
He was granted asylum in Brazil four years ago, but earlier this month a judge ruled that he should be deported to serve his sentence.
He has been released from jail in Sao Paulo pending an appeal.
Battisti, 60, says he was a member of a radical left-wing group in the 1970s, but insists he never killed anyone.
If deported, Battisti would be sent either to France or Mexico, which could then extradite him to Italy.
Cesare Battisti was charged with murdering four people in Italy between 1978 and 1979.
He escaped from jail in Italy in 1981 while awaiting trial, and was convicted in absentia in 1990.
He went on to became a successful writer of police novels in France and Mexico, before escaping to Brazil in 2004.
Battisti was arrested in Brazil in 2007, prompting the Italian government to request his extradition under an existing bilateral treaty.
It said the former member of the radical Armed Proletarians for Communism (PAC) was a terrorist.
In 2010, the Brazilian government accepted a request from Battisti for political asylum, but the Supreme Court ruled that the designation was illegal as he was convicted of "common crimes" rather than political acts.
The judges said the extradition treaty should apply, but nevertheless left the final decision to the president.
President Luiz Inacio Lula da Silva decided on his last day in office, 31 December 2010, not to extradite Battisti.
The Italian foreign ministry recalled its ambassador to Brazil in protest.
The families of the four alleged victims - a police officer, a prison guard, a butcher and a jeweller - condemned the Brazilian government's decision at the time.
Battisti has always denied the allegations and said his trial was flawed.
"I am guilty, as I have often said, of having participated in an armed group with a subversive aim and of having carried weapons. But I never shot anyone," he wrote in a book published in 2006.