Bus plunge in southern Brazil leaves 42 dead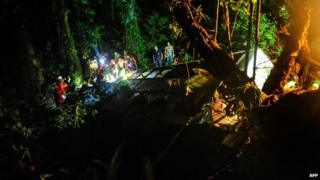 A tour bus has plunged off a mountain road into a ravine in southern Brazil, killing at least 42 people.
Police say the bus, carrying about 50 people, fell 400m (1,300ft) into a wooded area near the city of Joinville in Santa Catarina state.
At least six survivors were freed from the wreckage and taken to hospital.
The cause of the accident has not been determined. However, police said it appeared the brakes on the bus had failed as it took a bend.
The accident happened as night fell and difficult access to the site was hampering the rescue effort, a local government spokesman told AFP news agency.
The mountainous area is a popular tourist attraction.
A rescue helicopter was sent to the scene but could not land due to the terrain, local media report.
The death toll was initially put at 32 but increased after several bodies were found and three children who had been rescued died in hospital, a government spokesman said.