Brazil bus crash: At least 49 killed on way to religious event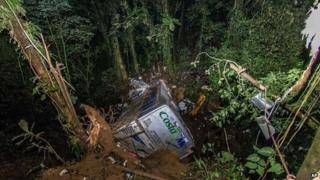 The relatives of at least 49 people who died in a bus crash in southern Brazil on Saturday have travelled to Santa Catarina state to identify the bodies.
All the victims came from the same city, Uniao da Vitoria, in neighbouring Parana state, where the first funerals will take place on Monday.
They were members of Afro-Brazilian religions and were going to take part in a gathering at a seaside resort.
The bus, carrying about 60 people, fell 400m (1,300ft) into a wooded area.
President Dilma Rousseff has sent her condolences.
"In this hour of pain of suffering, I want to extend my sympathies to the families and friends who have lost their dear ones," she said in a statement.
'Brakes failed'
Relatives have travelled to the nearby city of Joinville, where they have been offered counselling and psychological support for the next few months.
The cause of the accident has not been determined. However, police said it appeared the brakes on the bus had failed as it took a bend.
The accident happened as night fell and difficult access to the site hampered the rescue effort.
The road goes through a mountainous area popular with tourists, but it is notoriously dangerous.
Police say more than 110 people have lost their lives on that stretch of road over the past five years.
The death toll was initially put at 32 but increased after several bodies were found and three children who had been rescued died in hospital, a government spokesman said.
At least three of the injured are still in a serious condition.