Venezuela: President Maduro granted power to govern by decree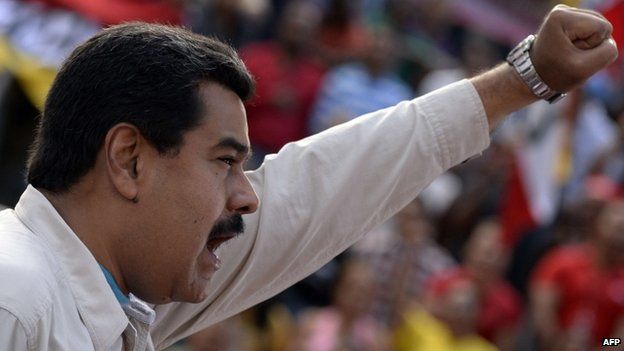 Venezuelan President Nicolas Maduro has been granted the power to govern by decree until 31 December.
The measure was approved by the National Assembly, where Mr Maduro has a majority.
He requested the approval of the Enabling Law after the United States issued new sanctions against Venezuelan officials.
The opposition says he is using the incident to amass power and divert attention from the economic crisis.
Mr Maduro said he needed the special powers to deal with the threat posed by the United States, which he accuses of meddling in Venezuela's affairs.
National Assembly president Diosdado Cabello led a group of politicians who went in person to hand over the new legislation to Mr Maduro outside the Miraflores presidential palace.
"They know they have made a big mistake," said National Assembly president Diosdado Cabello. "This is an act of aggression against all free countries in the world who are not willing to accept American imperialism."
Mr Maduro addressed thousands of people who joined them in an "anti-imperialist" demonstration.
"They may have the power of the dollar and the power of the media, but we something they don't have: the power of integrity," said Mr Maduro.
"This legislation gives me the power to defend peace and sovereignty."
Opposition politicians criticised the measure during the two-hour long debate.
"This is a weapon they are giving Maduro to use against those who disagree with him," said opposition congressman Angel Medina.
"The National Assembly cannot give up its powers in important matters such as sovereignty."
Last week, relations between the two countries suffered a new blow when US President Barack Obama issued an executive order freezing the assets of seven Venezuelan officials and banning them from entering America.
Mr Obama also said the situation in Venezuela, including "the government's erosion of human rights guarantees... constitutes an unusual and extraordinary threat to the national security and foreign policy of the United States".
Mr Maduro announced then he would seek decree powers "to defend the integrity of the country".
Mr Maduro says the US is behind a coup attempt being plotted against his government. The American government rejects the accusations.
The new legislation grants Mr Maduro powers to issue decrees on matters of public security and defence.
This is the second time since he took office two years ago that the National Assembly grants the president the power to govern by decree.