Brazil ruling party treasurer Vaccari charged with corruption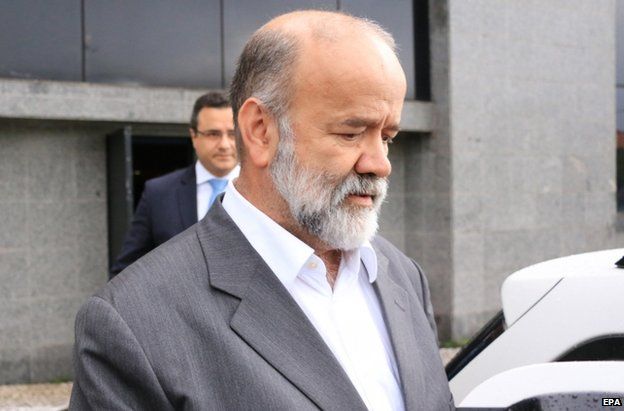 The public prosecutor in Brazil has formally charged the treasurer of the governing Workers' Party, Joao Vaccari, with corruption.
Another 26 people were charged in relation to the massive corruption scandal at the state-owned oil company Petrobras.
The move comes a day after hundreds of thousands of people protested in cities across Brazil against corruption.
Many demanded the impeachment of President Dilma Rousseff.
Speaking on Monday for the first time since the demonstrations, President Rousseff announced she would send anti-corruption measures to Congress this week and that she backed political reforms, although she gave no details.
A former leftwing guerrilla who was imprisoned for three years during military rule and brutally tortured for her beliefs, she gave her support to the right to protest,
"Many people from my generation gave their lives so that people could express themselves on the streets," she said.
But prosecutors say they have "ample proof" that Joao Vaccari, acting as the Workers' Party treasurer, asked for donations from former Petrobras services division chief Renato Duque and executives at companies who won Petrobras contracts.
During the wide-ranging investigation into Petrobras, dozens of executives from six of Brazil's largest engineering companies and two former Petrobras managers have been indicted for money laundering, bribery and of funnelling money from the company to politicians.
Prosecutors have asked the Supreme court to investigate dozens of legislators including the speakers of both houses of Congress for allegedly receiving the bribes.
President Rousseff's opponents have argued that she must have known about the kickback scheme because she served as chair on Petrobras's board at a time when it was taking place.
Last week a congressional enquiry heard from a former Petrobras executive, Pedro Barusco, who had worked in the company's services division.
Mr Barusco alleged the Workers' Party could have received up to $200m (£136m) skimmed from Petrobras contracts.
The Workers' Party has said it only ever receives legal donations and President Rousseff herself has been cleared of any involvement in the corruption scheme.
She has also made clear that she backs the Petrobras enquiry. She told reporters on Monday, "If they want to investigate they will investigate and whoever is responsible will pay for what was done."