Mexico Supreme Court frees man after 23 years in jail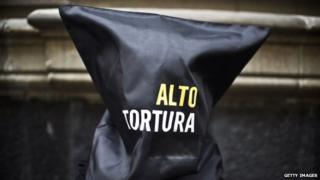 The Mexican Supreme Court has ordered the release of Alfonso Martin del Campo Dodd, a Mexican-American who was jailed in 1992 for the murder of his sister and brother-in-law.
The court ruled that Mr Martin del Campo's confession had been extracted under torture and that there was no other evidence against him.
Mr Martin del Campo said police had placed a plastic bag over his head to make him confess to the double murder.
He is expected to be freed shortly.
Brutal killing
In a four-to-one ruling the judges said Mr Martin del Campo, who holds both US and Mexican citizenship, should be freed "in light of the proof that torture was used to obtain his confession in the two crimes, without there being any incriminatory evidence".
Patricia Martin del Campo and her husband Gerardo Zamudio Aldaba were found murdered in their bed in their home in Mexico City in 1992.
They had been stabbed more than 60 times.
Mr Martin del Campo, who lived with the couple, was interrogated by judicial police in the basement of a Mexico City police station.
One of the officers later said he had placed a plastic bag over Mr del Campo's head and had beaten him.
Under torture, Mr Martin del Campo confessed, but later recanted.
There was no other evidence linking him to the crime, but he was nevertheless sentenced to 50 years in prison.
Legal battle
His supporters argued all along that he was innocent and that serious mistakes had been made during the investigation.
They pointed to the fact that hair and skin found under the victims' nails did not match the DNA of Mr Martin del Campo.
They also said that there had been irregularities in the way the investigation had been carried out, such as the fact that the victims' clothes and bed linen had been burned the same day of the crime "for hygienic purposes".
They took Mr Martin del Campo's case to the Inter-American Court of Human Rights.
However, the court found it could not act because the case predated Mexico's acknowledgment of the court's jurisdiction.
A campaign to free Mr Martin del Campo continued regardless and both Mexican and US human rights groups pressured Mexico to review his case.
The Supreme Court said Mr Martin del Campo should be freed immediately from the prison in Pachuca where he was held.
According to a United Nations report, torture and ill treatment during detention are "generalised in Mexico, and occur in a context of impunity".
UN Special Rapporteur on Torture Juan Mendez said earlier this month that methods used include beatings, electric shocks, suffocation, waterboarding, forced nudity and rape, as well as threats and insults.
Amnesty International also denounced "the routine use of torture to extract confessions" by Mexican security forces in a September 2014 report.