Brazilian torture survivor Ines Etienne Romeu dies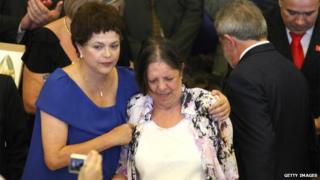 The only survivor of a torture centre where the Brazilian military regime interrogated opponents in the 1970s has died at the age of 72.
Ines Etienne Romeu memorised the names of her abusers and the location of what became known as the House of Death in Petropolis near Rio de Janeiro.
Her testimony for Brazil's Truth Commission was key in exposing human rights abuses under military rule.
In 2003 she survived an attack in her home that left her unable to speak.
The intruder was never identified.
Ms Romeu was admired for showing immense courage under torture, resisting when one of her torturers suggested she should kill herself.
Guards had taken her down to a highway and told her to throw herself under a car, but instead she grabbed hold of his legs and screamed to draw the attention of passersby.
She underwent two more weeks of abuse and when she was finally delivered to her sister, only weighed 32kg (five stone).
For her protection her family had her formally charged so she could be transferred to a state prison, where she spent eight years until a general amnesty in 1979.
She spent years making public the abuse that she and other political prisoners in Brazil had received, and when a truth commission was finally appointed in 2012 she gave public evidence, aided by her sister.
She identified a number of her abusers and her testimony helped identify the doctor who had assisted torturers in the House of Death by keeping victims alive.
More than 400 people were killed or disappeared in Brazil between 1964 and 1985.
The truth commission identified 377 people as responsible for human rights abuses. It said those perpetrators still alive - approximately 100 - should be brought to trial.
But Brazil's 1979 Amnesty Law makes that difficult. It states that neither members of the military accused of torture or abuse or their left-wing opponents accused of violence can face prosecution.