Chile's Calbuco volcano triggers fresh evacuation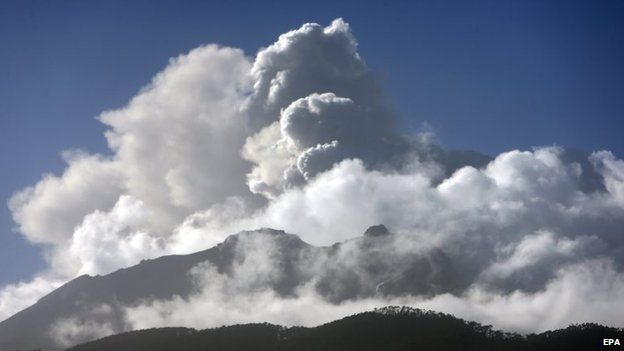 There have been fresh evacuations in the area surrounding the Calbuco volcano in southern Chile after it started spewing ash again on Tuesday.
The volcano erupted twice last week prompting the evacuation of more than 6,000 people.
On Tuesday, residents who had returned to Rio Blanco, to the south of the volcano, were asked to leave again.
Calbuco, which before last week had not erupted for 42 years, is one of around 90 active volcanoes in Chile.
Tonnes of ash have fallen onto the surrounding area, covering whole towns in grey dust.
Meteorologists have warned of the possibility of rainfall, which could turn the ash into rivers of mud.
Rio Blanco resident Elizabeth Matamala told the Associated Press news agency that she was leaving for good "because of the danger that we're in, we can't live here anymore".
"We're afraid because a lot of rain is forecast for Thursday, if that happens then the rivers are going to rise again and there will be another inundation [of volcanic material]," she added.
Mudflows damaged parts of the town last week.
A large number of livestock had to be evacuated from the region as the pastures they used for grazing were covered in ash.
An official from the National Agriculture Society said the milk industry, 50% of which is located in the region, was hit by the eruption.
Chile has been hit by a series of natural disasters in recent months including flooding in the usually arid north and wildfires in its southern forests.