Guatemalan drug 'Queen of the South' jailed in US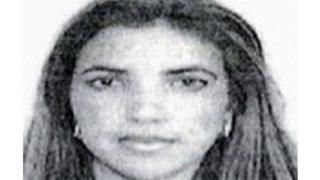 A Guatemalan woman who ran one of the largest drug trafficking and money laundering rings in Central America has been sentenced in secret in the US.
Marllory Chacon Rossell, who was called the Queen of the South by the Guatemalan press, surrendered to US authorities last year.
She is reported to be helping them with key information.
In return, the judge agreed to keep her sentence and release date under seal for five years for her safety.
Prosecutors agreed in December to recommend that Rossell should serve less than a 10-year sentence in return for pleading guilty.
The US Treasury Department described her as "one of the most prolific narcotics traffickers in Central America".
Based in Guatemala but also operating in Honduras and Panama, Rossell's organisation supplied cocaine shipments to Mexican drug enterprises including Los Zetas and the Sinaloa Cartel.
Her organisation was also believed to have laundered tens of millions of US dollars in drugs proceeds each month, making her the most active money launderer in Guatemala.
Many drug organisations in Latin America employ women at most levels of their criminal activities but it is rare for one to be headed by a woman.