Colombia crackdown on illegal mines in Amazon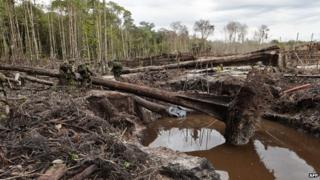 Colombia's armed forces have arrested 59 people in a major crackdown on illegal mining in the Amazon.
Defence Minister Juan Carlos Pinzon said they had dismantled an illegal financing network used by the Farc guerrilla group.
He said 63 sites near the border with Brazil and Venezuela - where gold, tungsten and cobalt were being mined - were raided.
The Farc and the government have been in peace talks for the last two years.
"It is the cleanest and hardest blow in more than a decade, possibly one of the biggest in history, against illegal mining," said Mr Pinzon.
"This operation prevented the Farc from getting its hands on 20bn pesos (about $8m) he added.
The operation involved more than 600 troops, police and magistrates in several regions of southern and eastern Colombia where guerrilla groups and criminal gangs are active.
Many of the mines were operating within indigenous reservations.
Among those arrested were 12 Farc guerrillas and five foreign nationals, including four Brazilians and a Venezuelan.
President Juan Manuel Santos has said that he believes mining is a substitute for Farc's falling drug profits.
The organisation had become a major farmer, refiner and illegal exporter of coca and cocaine by the 1990s, with ties to international groups and markets.
The vast sums of money it earned from the trade financed its dramatic military expansion.
But now after a decade of heavy military pressure from the Colombian military, Farc is much reduced.
In recent years criminal gangs have emerged and moved in to take over drug-trafficking operations previously run by the paramilitaries.
The Colombian government says these criminal bands, which it calls "Bacrims", are now a major threat.
Control of the drug trade as a whole has also shifted to Central America and Mexico.