Guatemala ex-police chief loses appeal against life sentence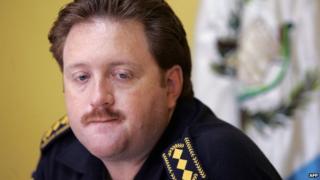 Former Guatemalan police chief Erwin Sperisen has lost an appeal in a Swiss court against a life sentence for killing prisoners in his home country.
Last year Sperisen, who also has Swiss nationality, was convicted over the execution of seven prisoners in a jail near Guatemala City in September 2006.
The court heard that he had shot dead one of the prisoners himself.
He was also found guilty of the murder of three prisoners who had escaped from another jail the year before.
His paternal grandfather was a Swiss migrant to Guatemala, giving him the right to Swiss citizenship.
The 44-year-old was tried in Geneva under a law allowing Swiss nationals to be tried in their own country for crimes committed abroad.
His arrest in 2012 followed an investigation by the UN-backed international commission against impunity in Guatemala.
The case was launched after a lawsuit filed by the mother of one of Erwin Sperisen's victims.