Colombia landslide: Hope fades of finding survivors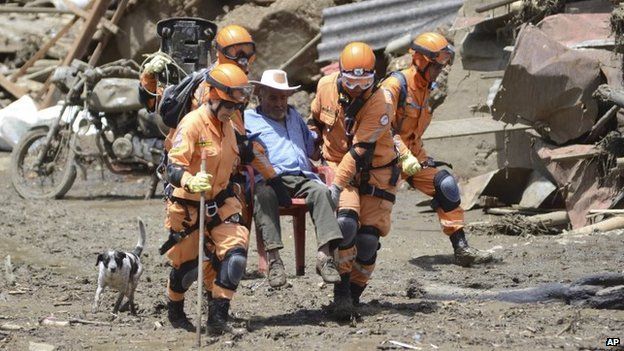 Rescuers in Colombia are continuing to search for victims of a landslide which hit the town of Salgar on Monday but hopes are fading for more survivors.
The number of bodies retrieved from the debris in north-western Antioquia province rose to 78.
Locals and fire-fighters are searching a 40km-long (25 mile) stretch of land on the banks of the Liboriana river.
The landslide was triggered by the river bursting its banks after heavy rain had fallen overnight.
Most of the residents were asleep when the landslide hit at 03:00 local time (08:00 GMT).
The neighbourhood of Las Margaritas was almost entirely swept away by a river of mud and debris.
Gildardo Parra, 70, told the AFP news agency he had helped pull nine bodies out of the mud.
"That area over there by the school was full of little houses. All that disappeared," he said.
Local resident Socorro Rincon said she had lost 15 relatives in the disaster.
Fire-fighters said hopes of finding anyone alive in the thick mud were dwindling.
Officials said they still had no exact number of how many people were missing.
"We're doing a sweep and going house to house to verify precisely the number," said Cesar Uruena of the Red Cross.
Landslides are common in the mountains of Colombia, where heavy rain often sweeps away poorly built houses clinging to the hillsides.
President Juan Manuel Santos, who visited the area on Tuesday, promised that the survivors would be provided with free housing under a government scheme.