Brazil overturns 'ban' on unauthorised biographies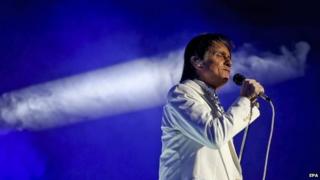 Brazil's Supreme Court has voted unanimously to overturn a law which allowed the subjects of unauthorised biographies to block publication.
The court said that the controversial law, which critics argued amounted to censorship, was unconstitutional.
It was mainly used by celebrities to prevent publication of critical books or have them pulled from the shelves.
Critics said that many publishers simply refused to put out books without the subject's explicit consent.
'Question of honour'
The court's decision was "in line with the fundamental rights of freedom of thought and expression, artistic creation and scientific output," said Deputy Chief Justice Carmen Lucia Antunes Rocha.
But the decision prompted protests from some of the biggest names in Brazilian music, including Roberto Carlos and Gilberto Gil.
The controversy began in 2007 when Roberto Carlos - known affectionately as O Rei (The King) - successfully sued to have a book about his life removed from the shelves.
He cited an interpretation of Brazil's civil code, which allows a person to prohibit publication of writings or pictures that they believe violate their honour.
Among the books that never made it to the shelves in the wake of Roberto Carlos's stand were biographies of some of Brazil's most celebrated musicians, as well as the life story of former Fifa boss Joao Havelange.
At the heart of the debate was a conflict between the right to privacy and to "protect honour", enshrined in Brazil's civil code, and the right to freedom of speech, which is protected by the country's constitution.
In May, Roberto Carlos joined with two other musicians and former counter-culture figures, Chico Buarque and Caetano Veloso, to form a coalition in support of the law.
The coalition, Procure Saber (Get Informed) lobbied the court to uphold it.
Caetano Veloso and Gilberto Gil were among the founders of Brazil's counter-cultural Tropicalia movement in the 1960s and are celebrated in the country for their opposition to the military regime that ruled from 1964 to 1985.
But along with other celebrities who have suppressed books or spoken out in support of the law, they have faced stinging criticism from the country's authors, journalists, and freedom of speech campaigners.
Isabel Vincent, whose book about philanthropist Lily Safra was banned by a Brazilian civil court in 2013, said at the time that the law "smacks of censorship".
Legal experts had warned prior to Wednesday's decision that the law could be taken advantage of to prohibit newspapers, magazines and TV programmes from running stories.