New Brazil delegation travel to Venezuela after 'bus attack'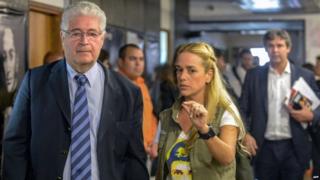 A group of Brazilian senators has travelled to Venezuela to try to promote dialogue between the country's government and opposition.
More than 40 people have been killed since last year in street protests.
Most of the senators in the delegation are close to Brazilian President Dilma Rousseff and support Venezuela's socialist President Nicolas Maduro.
Last week, a delegation of opposition Brazilian senators said their bus came under attack in Caracas.
The group, which included former presidential candidate Aecio Neves, said it had to flee the country after landing in Caracas because their bus was stoned by government supporters.
The Venezuelan authorities have denied involvement in any violence.
The Brazilian government delegation arrived in Caracas on Thursday and said it would talk to all sides.
"Brazil has a duty to identify and promote conditions for dialogue and the reduction of aggression, which has been a feature in Venezuela's democratic process," said Senator Roberto Requiao, who is leading the mission.
'Against the arrest'
The senators later met Lilian Tintori and Mitzy Capriles, the wives of jailed opposition politicians Leopoldo Lopez and Antonio Ledezma.
They have also met former presidential candidate Henrique Capriles and will hold talk with government officials.
"In Brazil we are in principle against the arrest of anyone taking part in the political process," said Mr Requiao, who is leading the delegation.
But the senators are not planning to visit Mr Lopez or Mr Ledezma, who were arrested last year after being accused of inciting violence during anti-government protests.
The visit comes at a crucial time in Venezuelan politics. Earlier this week, the government announced that parliamentary elections would be held on 6 December.
Delays in setting a date had drawn criticism from the opposition.
The United Socialist Party of Venezuela (PSUV) of President Nicolas Maduro currently holds a majority of seats.
Venezuela is facing a major economic crisis, which the opposition blames on 16 years of mistaken left-wing policies.
The government accuses the opposition of sabotaging the economy and inciting violence to topple President Maduro.