Honduras corruption probe widens as lawmaker is held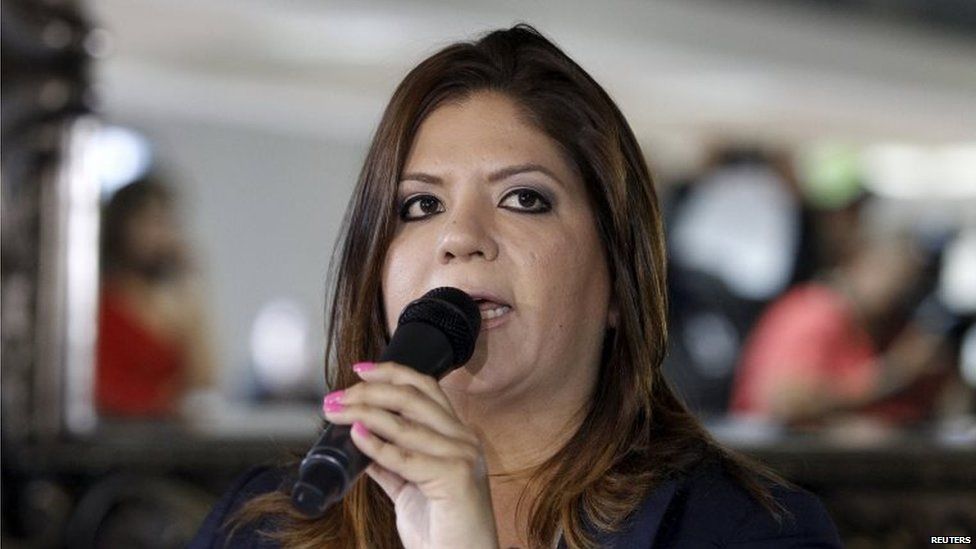 The supreme court in Honduras has ordered the arrest on Tuesday of the vice-president of Congress, Lena Gutierrez, over a corruption scandal.
Ms Gutierrez and members of her family are accused of defrauding the country's health care system.
Ms Gutierrez, who is a member of the governing National Party, has denied any wrongdoing.
The scandal has triggered large anti-corruption protests in the streets of the capital, Tegucigalpa.
The head of the supreme court said he had ordered the arrest of Ms Gutierrez and more than a dozen other people, including her father and two of her brothers, allegedly linked to the scandal.
He said he wanted to prevent them from leaving the country.
They have been charged with fraud, crimes against public health and falsification of documents.
Ms Gutierrez and her father and two brothers are suspected of having links to a company which allegedly embezzled the state by selling it poor quality medicine at inflated prices.
Prosecutors say the state was defrauded out of as much as $120m (£85m).
They allege that some of it went to finance the political campaigns of the governing party.
A lawyer for the family said they had sold their shares in the company years ago.
Tens of thousands of Hondurans have protested weekly against corruption with many calling for the resignation of President Juan Orlando Hernandez.
The president has come under fire for a separate corruption scandal which involves alleged fraud in Honduras' social security system.