Dominican Republic agrees to OAS migration inquiry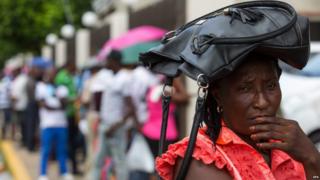 The Dominican Republic says it will cooperate with an Organization of American States (OAS) inquiry into its migration policies.
The OAS is sending a team to Santo Domingo after thousands of migrants left for Haiti in recent weeks.
The Dominican authorities say they left voluntarily after a registration programme for undocumented migrants expired.
But Haitian officials have accused the authorities of using force.
Speaking after the OAS announcement, Interior Minister Ramon Fadul said: "We have nothing to hide because what we are doing is applying our laws on migration as every country in the world does and to do this we have done what was needed."
But there have been international concerns about the number of Haitians being sent across the border, estimated to be some 17,000. Many of them are Dominicans of Haitian descent.
'Denied nationality'
Jose Miguel Vivanco, the director of Human Rights Watch's Americas division, said: "People are being detained and shoved across the border."
Caribbean nations in the 15-member bloc known as Caricom called on the Dominican Republic to stop what it said was a "planned mass deportation of people of Haitian descent".
The current crisis has its roots in a 2013 a high court ruling in the Dominican Republic.
It said that people born there between 1929 and 2010 had Dominican citizenship as a birthright, but those born to undocumented migrants at the time of their birth were not covered by this protection and were not citizens.
"The Dominican Republic is denying tens of thousands of citizens their rights to a nationality," said Jose Miguel Vivanco. As a result, he said, they have become stateless.
"Dominicans of Haitian descent have been unable to access basic public services such as registering children at birth, enrolling in school and college, participating in the formal economy or travelling around the country without risk of expulsion. "
The Dominican authorities had tried to deal with the influx of Haitian migration by opening a compulsory register for all migrants.
But more than 180,000 people were still unregistered by the programme's deadline on 17 June.
Many Haitian migrants reported encountering long delays and impossible bureaucratic hurdles.
President Danilo Medina has been criticised for trying to speed up the mass deportation of Haitians by introducing an offer of free transportation to the border for Haitians wanting to leave.
Since the late 1800s, hundreds of thousands of Haitians have crossed the border into the Dominican Republic fleeing violence and poverty in search of a better life.
Haiti shares the island of Hispaniola with the Dominican Republic but is historically poorer than its neighbour.
It is still struggling with the aftermath of the catastrophic 2010 earthquake that destroyed businesses and left hundreds of thousands homeless.