Brazil ex-president Lula da Silva in corruption probe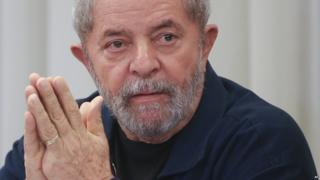 Prosecutors in Brazil have opened a formal investigation into allegations of influence-peddling by the former president, Luiz Inacio Lula da Silva.
The inquiry centres on whether Mr Lula had used his connections overseas improperly to help the Brazilian construction giant, Oderbrecht.
The ex-president's foundation, the Lula Institute, said he had nothing to fear.
Oderbrecht's CEO was arrested last month over involvement in a corruption scandal at the oil company Petrobras.
According to the Prosecutor's Office, the alleged influence-peddling took place between 2011 and 2014 after Mr Lula left office and was replaced by Dilma Rousseff.
He is accused of trying to help Oderbrecht get billion-dollar deals in Latin America and Africa.
The Lula institute said in a statement: "We are calm. The Lula Institute is certain of the transparency and legality of ex-president Lula's activities."
The inquiry comes as the speaker of Brazil's lower house of congress, Eduardo Cunha, said he was considering in the next 30 days legal arguments on whether to open impeachment proceedings against President Rousseff.
Calls have been growing from opposition politicians to remove her for alleged campaign finance irregularities linked to a huge corruption and bribery scandal in the state-run oil company, Petrobras.
The investigation into ex-president Lula drags him into this widening scandal.
Federal prosecutors allege that a cartel of companies and contractors, including Oderbrecht, working for Petrobras had overcharged the company billions of dollars for major contracts.
They say the extra money found its way into the pockets of executives and politicians of many parties including Mr Lula's Workers Party.
President Rousseff has denied involvement.
During Mr Lula's administration, Brazil - the world's seventh largest economy - gained a high profile.
Wealth from high commodity prices and strong Chinese demand was channelled into social funds that helped reduce poverty across the country.
The darling of Latin America's left, President Lula da Silva was adored by millions of Brazilians he helped lift out of abject poverty.
It was during his time in office that Brazil secured the 2014 World Cup and the 2016 Olympics.