Colombian Farc rebels extend unilateral ceasefire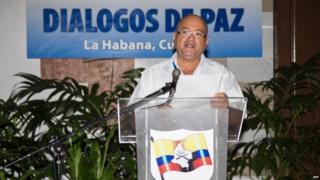 Colombia's largest left-wing rebel group, Farc, says it will extend its unilateral ceasefire.
The Farc declared a one-month cessation of hostilities last month, which had been due to expire on Thursday.
A negotiator for the group at peace talks in the Cuban capital, Havana, said the rebels wanted to create "the right political climate" for the negotiations.
This time, the rebels did not set a time limit for the ceasefire.
'De-escalation'
Reiterating the rebels' previous calls for a bilateral ceasefire, Farc negotiator Carlos Antonio Lozada said they "demanded a similar attitude on the government's side so that the de-escalation of the conflict can be consolidated".
President Juan Manuel Santos last month ordered bombing raids on rebel camps to be suspended, but the government has so far refused to enter into a bilateral ceasefire.
The government argues that during the last peace negotiations a decade ago, the guerrilla used the cessation of hostilities to re-arm and re-group.
The two sides have been engaged in peace negotiations in Havana since November 2012.
Their aim is to put an end to more than 50 years of conflict during which more than 200,000 people have been killed.
Agreement has been reached on three out of five main topics on their agenda: land reform, political participation by the rebels if a peace deal is reached and drug trafficking.
Farc negotiators first declared a unilateral ceasefire in December 2014, but clashes resumed in April with the killing of 11 soldiers and subsequent bombing raids on rebel positions.
---
The peace process
November 2012 - Formal peace talks begin in the Cuban capital Havana between the Colombian government and the Farc.
May 2013 - A deal is reached on land reform, one of the most contentious issues. It calls for fair access to land, and rural development, two key causes of the conflict.
November 2013 - The two sides agree on the political participation of the Farc should a peace deal be reached.
May 2014 - Both parties pledge to eliminate all illicit drug production in Colombia.
December 2014 - Farc declares a unilateral ceasefire.
March 2015 - Both sides agree to work together to remove landmines. Colombia is one of the most heavily mined countries in the world.
April 2015 - Government resumes air strikes after the Farc kills 11 soldiers in ambush.
May 2015 - Farc suspends its unilateral ceasefire after government military operation kills 26 rebel fighters.
July 2015 - Farc declares one-month ceasefire
August 2015 - Farc extends ceasefire without specifying for how long