Brazil bus crash kills 15 near colonial era town of Paraty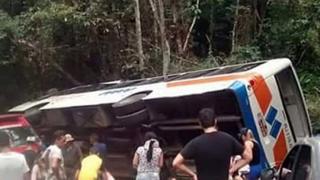 At least 15 people were killed when a bus crash on a steep winding road near the Brazilian colonial era town of Paraty.
Another 30 people were injured. Some of the survivors were airlifted to local hospitals.
The bus was travelling to a nearby beach popular with tourists when it overturned.
The stretch of road where the accident happened is notoriously dangerous. It is known locally as "God Help Me Hill".
Police are still investigating the cause of the accident.
Roads in the area would have been particularly busy this weekend as Monday is a national holiday - Brazil Independence Day.
Paraty lies between Brazil's biggest cities, Rio de Janeiro and Sao Paulo, and is a major tourist destination.
It is a well-preserved coastal town built in the 17th century, surrounded by steep mountains and lush tropical vegetation.