Mexico to create new prosecutor for missing student case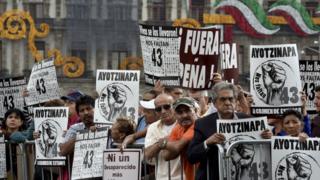 Mexican President Enrique Pena Nieto has announced the creation of a special team to look into the case of the disappearance of 43 students last year.
He was speaking after meeting relatives of the 43 ahead of the first anniversary of the tragedy on Saturday.
He said a special investigative team and prosecutor would handle the case.
The families want an international commission of experts to take over. Its report says the government investigation is fundamentally flawed.
Among the families' demands is that the government should look into the possible role of the army in the disappearance of the students.
They also want an investigation into those responsible for the initial enquiry, which they believe was intended to mislead them.
The students disappeared on 26 September, 2014, in the city of Iguala in Guerrero state.
The federal government has said local police from Iguala and the nearby town of Cocula had detained the students and turned them over to a local drug gang, which then allegedly killed them and burnt the remains.
But a team of international experts sent by the Inter-American Commission on Human Rights spent six months reviewing the government's investigation and found a number of flaws.
It concluded the bodies of 43 students could not have been burned at the rubbish dump in Cocula as the government maintained.
The government says it has identified two of the students from the burned remains recovered from the rubbish dump.