Venezuela to allow return of deported Colombians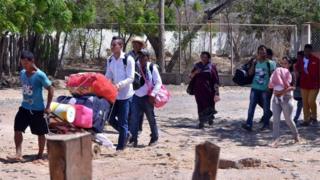 The Venezuelan government will allow Colombians who were deported from Venezuela during a crackdown on smuggling last month to return.
As part of measures to combat smuggling, the Venezuelan security forces deported more than 1,700 Colombians they said were in the country illegally.
Some of those expelled said they were mistreated by Venezuelan officers.
Regional body Unasur said Venezuela would welcome the Colombians back.
'Legal return'
The allegations of mistreatment caused outrage in neighbouring Colombia, which recalled its ambassador to Caracas.
Venezuela quickly followed suit and also recalled its envoy.
The two countries have since agreed to restore their envoys but tensions remain.
Regional body Unasur has been mediating in the dispute.
Following a meeting between Venezuelan President Nicolas Maduro and Unasur Secretary-General Ernesto Samper on Monday, Venezuela agreed to allow the deported Colombians back as long as they agreed to "legalise their status".
Smugglers' haven
The 2,200km-long border (1,400 miles) between the two countries is porous and there has historically been a steady flow of people both ways.
Venezuela says the border has become a dangerous haven for smugglers and criminal gangs.
Following an attack by smugglers on Venezuelan soldiers, President Maduro decreed a state of emergency and closed parts of the border.
Last week, Mr Maduro and his Colombian counterpart, Juan Manuel Santos, met in the Ecuadorean capital Quito and agreed on a "normalisation of ties".
However, the border has remained closed and President Maduro said it would take months to "create a border of peace".
Since Venezuela declared a state of emergency in three border states, an estimated 22,000 Colombians have left the area on top of the 1,700 who were expelled.
Many said they left in fear of being deported.
The Colombian government says it is doing its best to rehouse those who want to stay.