Colombian Farc rebels to halt military training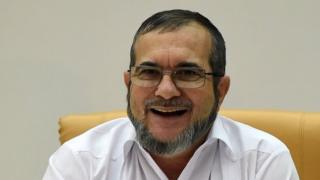 The leader of Colombia's largest rebel group, Farc has announced a halt to the rebels' military training.
The rebel leader, known as Timochenko, tweeted on Wednesday that he had ordered military courses be suspended.
He told Farc's "military structure" to dedicate itself to "political and cultural training" instead.
The order came a week after rebel negotiators and the Colombian government struck a key deal at talks on how to end the 51-year-conflict.
'Tight deadline'
On 23 September, Timochenko and Colombian President Juan Manuel Santos shook hands in Havana, where the two sides have been holding peace talks since November 2012.
Colombia's armed conflict
•An estimated 220,000 killed
•More than five million internally displaced
•More than seven million registered victims
•About 8,000 Farc rebels continue fighting
Sources: Unit for Attention and Reparation of Victims, Colombian government
What is at stake in the Colombian peace process?
Mr Santos announced that a final peace agreement would be signed within six months.
But in an interview with Venezuelan-based TV station Telesur, Timochenko cast some doubt on the deadline.
"If there's a political will, we can do it earlier, but six months may also be too short," he said.
He added that the two sides would have to "tread carefully" but was emphatic that the rebels would abide by the peace deal once it is struck.
"I give you my full assurances that there's not a single guerrilla, neither commander or combatant, that's in disagreement."
Many Colombians have expressed concern that demobilised rebels may join criminal gangs and continue their involvement in the drugs trade, one of the main sources of funding for the Farc.
Under a deal on transitional justice reached last week, rebels who have committed political crimes as part of the conflict will be granted an amnesty.
Only those who refuse to own up to crimes committed will be sent to ordinary prisons while the others will undergo "alternative forms" of punishment.
However, the deal will not come into effect until a final agreement is signed.