Victor Navarro dead: Colombia kills most wanted drug lord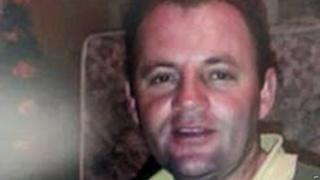 One of Colombia's most wanted drug lords has been killed in government air strikes.
Colombian President Juan Manuel Santos said Victor Navarro, also known as "Megateo", died in bombing attacks on the mountain jungle region of Catatumbo.
The US had offered a $5m reward for his capture.
Navarro was also the leader of a remnant faction of the leftist guerrilla group the EPL.
The EPL disbanded 16 years ago but Navarro is believed to have pushed the band into cocaine trafficking so that they could procure weapons.
In a magazine interview more than a year ago, he denied he was a drug trafficker but he admitted that he had collected "a tax on cocaine" so as to "finance the war".
Navarro was also known for his fondness for garish weapons-themed jewellery and the branding of underage young lovers with a tattoo of his face.
His brash behaviour had drawn comparisons to an earlier generation of drug traffickers in Colombia such as Pablo Escobar, who had kept a zoo of wild animals including lions and hippos in his rural estate.